We speak and write in English
We communicate in English – we hope you appreciate this very special service – so we will translate more and more articles and class descriptions.
Hopefully you appreciate this very special service.
We would appreciate if you contact us in English and we will be happy to answer your questions. And of course we offer you to attend our classes and musical education programs.
Music can help to bring us all together, understand each other, get in touch with other languages and cultures.
We invite you to experience this opportunity and welcome you in our music school, independent of your language and culture!
Through music we will understand each other, no doubt!
Sincerly,
Christiane Maier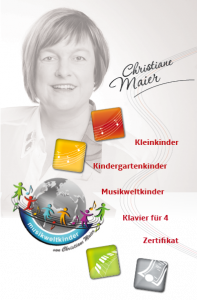 Our music school was found in 1998. It didnt take a long time until we became known and in a short time we became one of most popular musicschools in the Rhein-Main-Area.
We are there for people who love music at every age; our smallest childs are only a few months old, our oldest are many decades older.
Our classes are specifically made so they can, if you want, take you through a life filled with wonderful music.
We have excellent teachers who dont only know what they´re doing with the instruments, they are also great educationists.
Our motivation is the passion
of teaching musical and cultural values
to our students through musical education.
Values for the whole life.
We offer a complete Musiceducation concept from the day you are born until the day you want to study music, with perfectly balanced class offers for:
Babys and children »
Musicworldkids »
Elementary Kids »
Teenagers »
Adults »
The Musiceducation – concept is being supported by:
lessons through a qualified teachers – team
Certificate of education
a skillfull and personal guidance
commitment and innovation in many projects and activities
collaborations with professional partners
involvement in a strong organization
Hold the babys in your arm, sing a song to them, making them go to sleep with careful swinging motions, creating sounds and noises while their playing with toys. All those are important experiences that a baby should have after they are born.
Our job is to enforce and support those first natural experiences.
Knowledge, musical experience with children, intuition, and the right environment decides on whether that succeeds or not.
We are more than happy to do this and we do know: This is a very discerning and responsible job because the impressions the babys get in those first few years  last – for a whole life.
In this first phase of life we offer a thoroughly chosen class. We call this phase the musical education "Phase I – Elementare Musikpädagogik"  with the supporting steps early-, elementary-, and transitional phase.
The first few years are really important for children. The best and most ideal to live those years is to have positive experiences with music, dance and singing.
We want to help to lead the musical way for your children.
It is important for us to work hand in hand with the parents to support and discover the musical talents that your child has.
In order to do that it takes a lot of effort and dedication that our highly qualified teachers are willing to give. We put all of our strength and passion into that.
We offer for this part of a children´s life a specifically designed class with the goal to give the children a first impression on all the different instruments.
We want to develop a love for music, a love for the whole life. For this one reason our whole musicschoolteam is working together hand in hand  – with a lot of passion.
We accompany the teenagers on their musical way with qualified musicteachers in all kinds of different genres.
Their job is to teach musical knowledge as well as technical know-how. It is also really important for us to support the social and personality skills of all teenagers. Skills that are so incredibly indispensable for the development of a soon to be grown up.
In addition to the regular instrumentclasses we offer muscial work that support the team spirit and possibilities to participate in musicprojects.
Since we have so many teachers with great qualifications we are able to prepare talented students to study music later on in their life.
The whole musical career can be documented in the (Ausbildungspass) of our music school. The students often show it next to their applications for internships or jobs. It shows how active they actually were in their muscial education.
---
Of course we also offer classes for adults or even seniors.
It is very important to find a balance between family a job, sports and maybe even travelling. Music is the perfect balance.
We know that a lot of adults and seniors played music instruments back in the days, and for a majority of them it´s still somewhat of a dream to play that instrument again. Even if you did not play any instruments back when you were younger, its never too late to start. Go for it!
---
Rockschool is one of the leading provider for Rock – & Pop – exams worldwide.
We are proud that our musicschool uses Rockschool materials in the classes for teenagers and adults for:
Voice coaching
Guitar
Bass
Keyboard
ePiano
Motivation and fun are definitely being boosted. By request, we do rockschool exams that are accepted internationaly.
As an educational establishment we have social responsibilities and we take part at the germanwide socialfund of the bdpm – "Kids love Music".
This socialfund was created in 2014 and we are proud to be one of the first Music schools to join it. It is a great thing were kids and teenagers who are struggeling financially can be supported.
Contact us for more information.
Qualification and involvement – that is what we want and what our teachers have. Because we believe that education is easily the greatest asset that one can acquire.
To get to the point: we are proud of our teachers team.
All of our teachers have qualifications either through academic studies or through qualified further education.
Over the years, our music school has been getting impressive awards. We are very proud that our dedication and hard work is being recognized with such awesome awards.
2012
December 5th, we get the "Deutschen Bürgerpreis". We placed 12th out of 1000 participants.
2011
The "6. Ginsheimer Tage voller Musik", which basically means Ginsheimer days full of music, is under the motto of "small ones very big". We have to edit about 9 hours worth of video material. It was a lot of work, but it was worth it. We eventually got the letter from berlin saying that we won.
2010
In 2010 we start helping and supporting children in Haiti because of the major earthquake. All of our concerts during the summer 2010 are being dedicated to the Musicschoolproject Haiti ». Beginning of december we are more than happy to send 91 flutes, 1 keyboard and only the best wishes to Haiti. The kids are so grateful and love their flutes.We get the 1st price in the category "Helping through Music".To this very day we always keep in touch and continue to support the children in Haiti.
2009
A group of teenagers produce a Hip-Hop song called "Das Schattenkabinett"
They get a price in the category Music.Power.Politics.
2007
We enter a competition for Youth choirs and get a price for performing the "Kuscheltierkonzert".
Musikweltkinder – Welcome to the instrumentsparadise
The (courseoffer) "Musicworldkids" is specifically made for pre-school and elementary school kids at an age of 5-6 years in the transitional phase between kindergarten and elementary school. Goal of the self-designed class, which lasts 1 year, is to help teach the kids a wide range of musical competences as well as supporting the personality development.
The class includes 3 learnfields:
Exploring different instruments
The class participants learn the basic principles of using it and how the sound is being produced by the instrument. There are 10 instruments of different types: drumming-, keyboard-, plucked-, string-,  brass-, and woodwind instruments. Through that, the kids will receive practical experience with as a lot of different instruments. If they have a basic knowledge of those certain instruments it will be easier for them to decide which instrument they want to learn.
Acquire knowledge
Based on worksheets, the team will learn about the most important attributes of the instrument. How does the instrument produce the sound, what materials have been used, where is the instrument originally from? The kids will receive a great knowledge about those instruments.
Experience diversity
The class participants sing and listen to songs of many different genres and epochs, as well as different countrys and cultures. Artists and concerthalls out of the whole world will be visited "virtually" and watched with a beamer on a big screen. The class participants experience the whole diversity of music, how to apply it and through that they receive impulses for their own musical career.
More Information
The class is one year long and is a group- and team experience. There is a minimum of 5 participants and a maximum of 10 kids.
Goals of the class
teaching musical competences
supporting the personality development
Every class is 55 minutes long. The parents will always be included in the class during the last 10 minutes. The last day of the class will be the emotional highlight. The "Musicworldkidsday" will be there for the kids to present their adventures and newly acquired abilities through playing songs and presentations. They will be in charge of the presentation for their parents, siblings and friends. They receive a "Musicworldkids" certificate, which will let them look back on their education with pride. The class will be documented in the (Ausbildungspass) of our musicschool.
Your teacher for Musicworldkids is Christiane Maier, she designed the class herself.
Hold the babys in your arm, sing a song to them, making them go to sleep with careful swinging motions, creating sounds and noises while their playing with toys. All those are important experiences that a baby should have after they are born.
We also offer to come to your Kindergarden to teach there.
We sing, dance and are happy together. It strengthens the group feeling by so much and the children love it.You are welcome to contact us and ask further questions about the different classes and also about workshops.
We would be more than happy to answer your questions.
When in 2010 the major earthquake hit Haiti and we saw the destruction on the news we knew we had to do something. The people who never had a lot anyways now lost just about everything.
We realized how much we have and that we are able to live a good life and maybe sometimes even take it for granted. We realized we need to share and support them – sharing is caring. Everyone needs to have the chance to be able to learn how to play instruments and get educated.
Until this day we have donated 1 Keyboard, more than 91 flutes, 12 guitars, many violins and a lot of notes. We continue to raise money to send more and more instuments, because we know how grateful those people are. And who knows, maybe one day we will be able to visit them ourselves.
If you would like to help and donate, contact us. We would be very happy to tell you more about this awesome project.